Setfree Projects does what it says on the tin!
Well not exactly free but we do set your ideas free and bring them to reality, be it dramatic stage sets, attention grabbing exhibition stands, or the wackiest three dimensional structures - we can create them all beautifully, and at an affordable price.
Relax; we've been producing scenic solutions for events since 1999, so it really doesn't need to be a drama. As set builders we're experts at producing high quality bespoke stage sets for Theatre, Opera, Exhibition, Conference, Live and Outdoor events. We work in close collaboration with event producers, production managers, directors, and designers to create awe-inspiring and cost effective solutions to your next project. Our fully equipped in-house workshop services include CNC router technology, Steel fabrication, Scenic effects and finishes, Plastic fabrication, Sculpture, Props Making, fibreglass, Laminating, Engraving and more.
So, why choose us? Well the answer to that is simply, we love what we do… and it shows!
Latest from the blog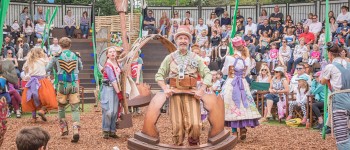 "Borrowers don't steal! Except from human beans…"
Tweets by @SetfreeProjects