New Performance Space on the Eisteddfod Maes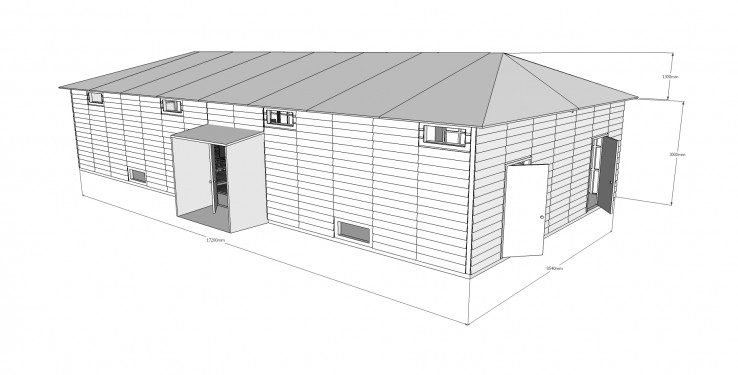 There'll be a new performance space on the Eisteddfod Maes in Carmarthenshire this year, as the National Eisteddfod and Theatr Genedlaethol Cymru further develop their partnership, and Setfree Projects Ltd have been commissioned for the build.
The bespoke built mobile theatre will enable drama companies to perform at a variety of venues.
The aim of the Cwt Drama is to create a new venue for performances on the Maes, building on the success of the Theatre and Caffi'r Theatrau over recent years.  The Cwt Drama is also a valuable resource that will be available at other times of the year, continually strengthening the relationship between the two national organisations throughout the year.
National Eisteddfod Chief Executive, Elfed Roberts, says "The Cwt Drama is an exciting development, not only in the relationship between us and Theatr Genedlaethol Cymru but also for drama and performances on the Eisteddfod Maes.  It will be great to be able to offer performances at a new location, and I'm sure this will appeal to the drama companies and visitors alike.
Arwel Gruffydd, Theatr Genedlaethol Cymru's Artistic Director, said, "We are very pleased that the partnership between Theatr Genedlaethol Cymru and the National Eisteddfod has lead to a new performing space on the Maes this year. The Cwt Drama will be a great theatre resource for Welsh producing companies, to artists who'd like to show work in development or projects on a small scale, and talks about theatre work.
"At the moment we're preparing a full programme which will showcase the new talent of Welsh theatre and representing the hub of activity happening across the sector.  The Cwt Drama will also be available to use at other times during the year across Wales and beyond."
Programme details for the Cwt Drama and the other activities at the Eisteddfod will be published in May.  The Eisteddfod is held on Festival Fields, Millennium Coastal Park, Llanelli from 1-9 August.  For more information go to www.eisteddfod.org.uk.  For more information about Theatr Genedlaethol Cymru, go to www.theatr.com.