The Dumb Waiter by Harold Pinter – The Print Room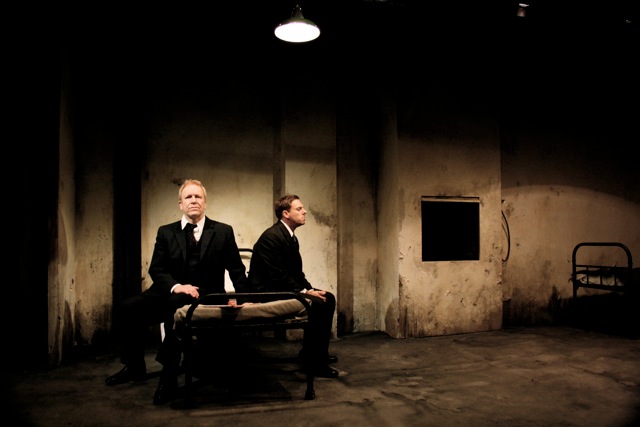 In an airless, windowless basement, two hit men await their orders.
The last job has got Gus thinking while Ben just wants a cup of tea.
But their usual routine is disturbed and events start looking ominous when the unexpected and increasingly perplexing messages start arriving through the 'dumb waiter'. It is soon clear that all is not what it seems…
Marking the London directorial debut of Jamie Glover, this is a classic comedy of menace and suspense by Nobel Prize-winner Harold Pinter.
Jamie Glover's recent directing credits including A Voyage Round My Father at Salisbury Playhouse, Single Spies and Educating Rita at the Watermill, and a UK tour of Measure for Measure.
Joe Armstrong plays Gus. Recent theatre credits includes Miss Julie (Royal Exchange Manchester), Flare Path (Theatre Royal Haymarket), The Empire (Royal Court), Orphans, A Night at the Dogs and Protection (Soho Theatre), and How Love Is Spelt (Bush Theatre).
Clive Wood plays Ben. Clive's recent theatre credits include King Lear and Filumena (Almeida), The Tempest and Flare Path (Theatre Royal Haymarket), One Life and Counting (Bush Theatre), Macbeth (National Theatre), and extensive credits for the Royal Shakespeare Company including Henry IV (parts 1 and 2), Richard II, Richard III, Henry VI (parts 1,2 and 3), Twelfth Night, Macbeth, Hamlet, Pilate, Antony and Cleopatra, Much Ado About Nothing, A Patriot For Me, The Wives Excuse and Henry V.
Starring Joe Armstrong as Gus, and Clive Wood as Ben
Director – Jamie Glover
Designer – Andrew D Edwards
Lighting Design – James Whiteside
Sound Design – Peter Rice
Stage Set Construction – Setfree Projects Ltd